A new phishing email campaign is targeting Office365 users. This email is claiming to be sent from "your organization" informing the recipient of a new VPN configuration being deployed for at home access. Within the email is a clickable link that will take the recipient to a new window where they are asked to enter their Office365 username and password. 
The hackers behind this specific cyber-attack are attempting to get your business' Office365 login information from your employees so they can hack your account. Without prior knowledge that your business is actually implementing new IT solutions it is likely that your employees, and business, will fall victim to attacks like this. This cyber-attack should remind you why it is always important to communicate with your employees about any new IT solutions that your business will be deploying.
In order to effectively communicate these new IT solutions, follow these tips: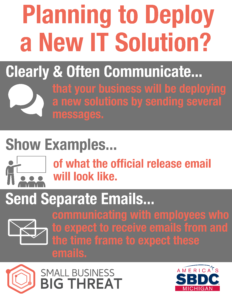 Read more about this cyber-attack at HelpNetSecurity.
Stay up-to-date on the latest cybersecurity news by subscribing to our monthly newsletter!
---